Deus Ex Machina
At first, it seemed an easy question to answer: what is the difference between a human and a machine? It is easy, if the question is interpreted as, "What is the biological difference between a human and a machine?" The answer to the latter question, however, isn't as obvious as it seems. Mortality isn't an answer, nor aging, since bodies and machines have parts that age and wear out, eventually failing. Removing energy – electricity for machines, food for humans – will terminate the machine or human; the only difference is how quickly it happens.
In "The Most Human Human", Brian Christian ponders what separates humans from machines. Many of the answers tending to come up don't stand up to scrutiny. Perhaps it is looked at from the wrong direction; what if the question was about the difference between humans and animals. After all, man the animal uses tools, but so do many species of animal. People are social, just like many animals. Humans, according to Christian, "have sex for fun". But dolphins have sex for fun, too, as few other highly-intelligent animals (Christian 148). What does separate humans from machines and animals? It is the asking of this question, and understanding its implications. For a while, at least.
Maybe the whole question need to be turned on its head. What can machines do that humans and higher level animals cannot? The answer comes from John Von Neumann's concept of the self-replicating machine, which is the concept driving the RepRap Project, the purpose of which is to create a self-replicating 3D printer. Many microorganisms reproduce by essentially cloning themselves.  Von Neumann's self-replicating machine would make clones of itself as well, just as cellular creatures do.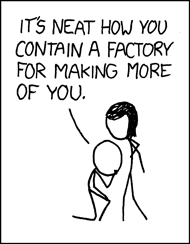 People are able to reproduce, just like nearly all animals are. But people and higher level animals are unable to duplicate themselves. This actually gives at least one answer to the question of the difference between humans and machines: the inability to construct our offspring. Just like true artificial intelligence, human cloning is still a far future reality. When humans are finally able to clone themselves, will they lose part of what it means to be human?
SOURCES:
Christian, Brian (2011-03-01). "The Most Human Human: What Talking with Computers Teaches Us About What It Means to Be Alive". Knopf Doubleday Publishing Group. Kindle Edition.